TheMembers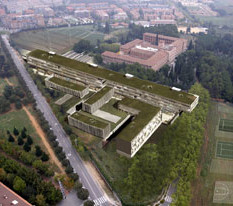 Esade Creapolis

Llaceres 30 08190 Sant Cugat del Vallès (Barcelona)
Tel. 93 567 66 80
Contact person: Director General: Oriol Alcoba Malaespina. Persona de contacte: Andrea Arenas (Directora de comunicació)
www.esadecreapolis.com
andrea.arenas@esadecreapolis.com
Description

ESADECREAPOLIS is a Creativity Park: a unique ecosystem in which companies, students and the teaching and scientific community come together in the common aim of detecting opportunities, and creating and promoting organizations that will define the future. ESADECREAPOLIS offers start-up and consolidated companies the latest features in office space design. Companies will be immersed in a unique atmosphere of interaction, with activities designed to promote innovation and enhance competitive capacity.
Main Areas
- Entrepreneurship Center
- Creativity Center
- Consultancy
- Training
- Human Resources
- Resources center
- Activities and events
- Networking and collaboration projects
Services
- 20.000 sqm to allocate offices
- Creativity Lab
- Business center (incubator)
- Rooms and spaces
- Car park
- Bar and restaurant
- Sports area
- Facilities
Other interesting information
ESADECREAPOLIS offers top level facilities with the latest features in office space design, as well as knowledge spaces, with the aim to promote creativity and enhance innovation. The park will be open at the end of 2008, and it is placed in Sant Cugat del Vallès.
Administración y Oficina Técnica: Centro de Empresas de Nuevas Tecnologias B-27, Parque Tecnológico del Vallés - 08290 Cerdanyola T: 93 582 45 45
Sede Social: Parque Científico de Barcelona, Baldiri Reixac, 10-12 - 08028 Barcelona -
Legal warning
-
Privacity Policy