TheMembers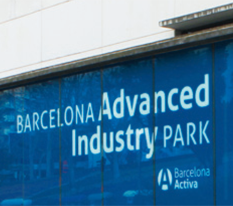 Parc Tecnològic de Barcelona Activa

C/ Marie Curie 8-14
Tel. 93 291 77 77
Contact person: Carme Sánchez
www.barcelonactiva.es
empresa@barcelonactiva.es
Description

Barcelona Advanced Industry Park (BAIP) is one of Barcelona Activa's facilities that, with 10,000m2, is equipped with advanced infrastructures that support the consolidation and growth of innovative small and micro-companies and to spread new technologies. Barcelona Advanced Industry Park (BAIP) offers small and micro- technology-based companies geared towards innovation, a range of advanced services of support for innovation, development, consolidation and growth of businesses; advanced infrastuctures with common services for presentations, meetings, and major events, as well as formal and operative relations with universities, research centres and other higher education institutions that boost knowledge transfer and growth of new technology-based companies.
Main Areas
- Fostering business growth
- Boosting business co-operation
- Access to funding to grow and innovate
- IT skills acquisition and diffusion
- Contact with univ. and research centres
- ICT training
- Support in knowledge transfer
- Business quality and excellence
Services
- 95 modules of 25, 50 and 90m2
- Administration and logistics services
- Pathways to growth
- Permanent security service
- 7 meeting rooms & auditorium 240p.
- Business co-operation and networking
- Restaurant and catering service
- Information, advice and training
Other interesting information
Barcelona Advanced Industry Park (BAIP) hosts 46 technology companies, mostly dedicated to the development and commercialisation of software, engineering and telecommunications, and includes the Cybernarium, a space for training and growth through Internet, with more than 40,000 participants per year.
Administración y Oficina Técnica: Centro de Empresas de Nuevas Tecnologias B-27, Parque Tecnológico del Vallés - 08290 Cerdanyola T: 93 582 45 45
Sede Social: Parque Científico de Barcelona, Baldiri Reixac, 10-12 - 08028 Barcelona -
Legal warning
-
Privacity Policy