TheMembers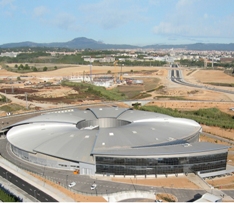 Barcelona Synchrotron Park
(Parc de l'Alba)
Creu Cara i Sicart, 86-88 (Edifici Sener) - 08290 Cerdanyola del Vallès
Tel. 935910780
Contact person: Pere Solà
www.barcelonasynchrotronpark.com
info@parcdelalba.cat
Description

The Barcelona Synchrotron Park (BSP), also known locally as Parc de l'Alba, is located around ALBA, the unique synchrotron in Southern Europe. It provides technology based companies from around the world with 440,000 sq. meters of fully developed land with high level infrastructure. An innovation friendly-environment is the key strength of this park: both R&D (ALBA synchrotron, Autonomous University of Barcelona – UAB, UAB research park – PRUAB, ASCAMM technology center, etc.) and entrepreneurial environment (Vallès Technology Park – PTV and 10,000 companies within a radius of few kilometers).
Main Areas
- Health (pharma, biotech, medical devices, cosmetics)
- Aerospace
- ICT
- Materials and Energy
- Food and Beverage
Services
-
-
Other interesting information
The BSP offers a highly reliable and redundant electricity supply. The park has its own district heating and cooling network and six telecommunication companies have rolled out their own networks. 60,000 sq meters of Data Centers are available.
Administración y Oficina Técnica: Centro de Empresas de Nuevas Tecnologias B-27, Parque Tecnológico del Vallés - 08290 Cerdanyola T: 93 582 45 45
Sede Social: Parque Científico de Barcelona, Baldiri Reixac, 10-12 - 08028 Barcelona -
Legal warning
-
Privacity Policy